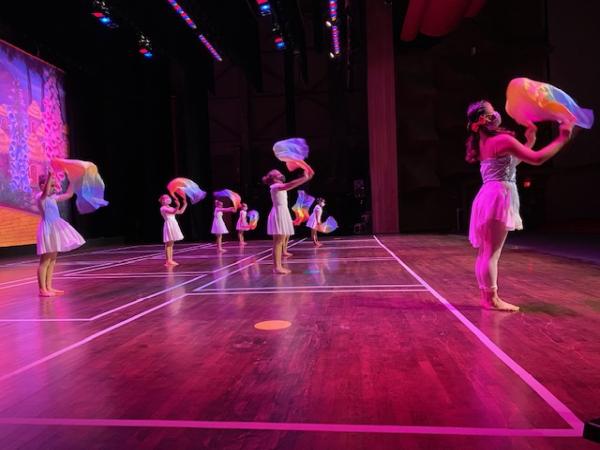 Academy of Dance Arts
"In fact, when my daughter went to a dance intensive in Salt Lake City, her technique and overall skill was comparable if not better than dancers who attended performing arts schools in that area."
FAQs
What to wear to a trial class?
If you already have dress code items, like a leotard, tights or dance shoes, wear those! But we don't expect anyone to invest in the uniform before taking a test spin on the floor! The important thing is to be comfortable so that you can get the most out of the experience. Uniforms are a proud part of the enrollment process.
Can I register for private lessons?
Every student is unique! Students deserve one-on-one attention from our pros, so we have private lesson plans tailored to the age and developmental level to help achieve personal goals, peak progress or confidence. Boost weekly classes with convenient private sessions to learn at your pace with a personal coach!
What should I wear to class, do you sell these items?
The right pair of shoes can change a life! When a little dancer steps into the dress code uniform they are wearing clothing of legends! It's still exactly what the best professional dancers everywhere and across history have worn! From Anna Pavlova to Misty Copeland and Mikhail Baryshnikov, the tools of the trade are simple and powerful. The technology has improved, so a leotard and tights are now buttery soft and the shoes are supple, hugging little feet with the right amount of performance magic. Make sure you are getting the RIGHT tools by shopping local or at a dance supply store, instead of spending your hard-earned dollars on play shoes from a big box store. Set your dancer up for success from the very first step! We can help you in person at the Dance Shoppe located at 230 Main Street in Rapid City, you can order online HERE, and we can deliver items to your Academy class location at no additional charge!
Will zoom be available in the fall?
Students who register for classes will have LIVE access to the online dance experience as it happens in real time, so we never miss a beat! If we have a snow day or students need to stay home because family members are ill, they can still join us online for classes.
What other costs can our family expect through the year?
We like to help families know what to expect, in both planned and optional related fees. Parents can expect their investment to include dance class tuition, dress code items (Ave $50 for a leotard, tights, ballet shoes) and a costume for the class ($69-$79), if they choose to participate in our year-end exciting themed recitals! All performance ticketing is handled through the Monument, so families can budget for $18-$29 per ticket at the theatre in the spring. We offer extras like yearbooks, recordings, gifts and other optional items at performance times.
You can find more answers to some of our most commonly asked questions on the FAQ page of our website.
i